Austria went football crazy when they were picked to co-host the 2008 UEFA European Football Championships. The Austrian Post Office was one of the national sponsors of what was the largest sporting event ever held in Austria. They pulled out all the stops to produce a series of both unusual and memorable stamps to commemorate Euro 2008 that delighted
philatelists and football fans
the world over.
The first stroke of design brilliance was to produce a stamp that looked like a football, not only that it was a football! Each self adhesive stamp was made from the same synthetic material as the tournament's offical
EUROPASS match ball
. The makers Adidas said that the sophisticated design of the ball's outer skin guaranteed optimum grip between ball and boot. Unfortunately the same could not be said for the stamp. Upon it's release in March 2008 many wouldn't stick to envelopes or fell off in transit. But still a lovely stamp, here it is in all it's glory.
The Austrian Post Office weren't finished with their unusual stamps. But how could they top a football stamp made from a football? Well they did, they put a clip of a football match on a stamp. Using lenticular technology a stamp was produced featuring a 3-second clip of Andi Herzog scoring an important goal for the Austrian national team. Shown below is the stamp on a first day cover, a mock up of the stamp with footage of the goal and a video of the actual goal itself.
Read more about this amazing stamp here.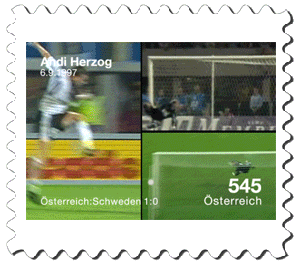 Austrian Post released one more unusual football-themed item. This was a minisheet featuring an image of the Henri Delaunay Cup flanked by four
Swarovski crystals
. Here it is on a first day cover.